Over the past 2 years there has been massive growth in the time patients are spending on Zoom, Skype, and Google Meetings, meaning they have been spending a lot of time looking at themselves and noticing those things they would like to change. The number one thing being their teeth!
With this is mind we have put together our 10 Top Dental Marketing Ideas to ensure that you are at the front of the line when patients are looking for a new cosmetic dentist.
1. Ensure you have a Marketing Strategy
It is important that you understand your current patient base and those you are looking to attract. This will enable you to build the best marketing strategy to ensure your practice is at the forefront of patients' minds. The strategy should be written down and tasks assigned to the relevant people with a specific timeline for their completion.
2. Build your brand
Your brand must be fully ingrained into every part of your business. This goes beyond your logo and outstanding website and must also include your core values as a practice and more specifically as a practice team. Patients are desperate to find out more about the people under the masks! They want to know that when they attend your practice they will feel as though they are the only patient you are seeing that day and that their concerns and hopes for their smile are fully integrated into any treatment plan.
3. Search Engine Optimisation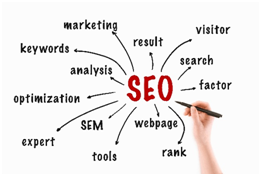 The first stage in any marketing strategy must be Search Engine Optimisation (SEO). How do you begin any search for information? I can guarantee it involves typing a query into one of the major search engines. You may have the best practice in the world but without an effective SEO strategy no-one will be able to find out anything about you. Find out more about Dental SEO here.
4. Google My Business
Google My Business is a great free way to boost your online presence by registering your business address, hours of operation and all your essential contact details. It also is a wonderful way to register reviews for potential patients to find as these can prove to be a deciding factor for new patients looking to join your practice.
5. Mobile Accessibility
It is now said that over half of all medical searches are completed using a mobile device, this means that if your website is not mobile compatible you will be missing out on a large number of potential patients. Google is now using this factor as a key factor when deciding which websites to show.
6. Google Analytics
Google Analytics is a fantastic tool for checking how your website is working for you. Looking at your most popular pages will show you key areas of interest for your patient base and can provide a starting point for an PPC terms.
7. Content Marketing
Writing a regular blog post, list article or some Frequently Asked Questions is an excellent way to attract new patients to your site. When also linked to your social media accounts you can help to drive traffic to your website.
8. Social Media Marketing
Social media platforms have made advertising as easy as possible. With the vast amount of data that these platforms collect it is possible to target specific patients for treatments that you are looking to boost.
You can also use Social media for regular posts, giving patients not only information on the services you offer but also letting them see behind the scenes and showing them the team's personalities.
9. Patient Referrals
The greatest and cheapest marketing tool is happy patients. When your patients are saying good things, this is a verified review. You do not need to convince new patients of its validity.
You can help to increase this by running referral schemes, offering incentives to current patients, who refer new patients into the practice.
10. Online Reviews and Testimonials
It is important to pursue reviews wherever possible and you will find that this will give results, although it may take some time. Be sure to make the process as quick and straight forward as possible to increase the chance of patients leaving reviews.
In conclusion
Whatever your marketing strategy, do not expect perfection. With a good online presence and thinking of every patient interaction as a chance to convert them into being an advocate you will not go far wrong.
For further help and assistance do not hesitate to contact the team at Dental Business Butlers and we can help to take the stress out of your dental marketing.